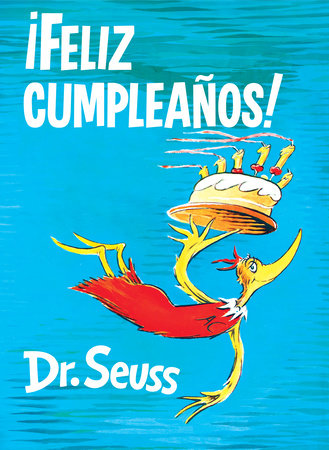 ¡Feliz cumpleaños! (Happy Birthday to You! Spanish Edition)
¡Edición en español y rimada del mejor regalo de cumpleaños de Dr. Seuss para personas de 0 a 101 años!

En este clásico de Dr. Seuss, los lectores aprenderán cómo se celebran los cumpleaños en la tierra de Katrú, sin duda, típicos espectáculos Seussianos! (Sin que falta el Ave Cumpleañera, espléndidos banquetes, regalos para no olvidar ¡y una fiesta tan extravagante que demora veinte días poder limpiar el reguero!) Pero es el motivo de estas festividades lo que hace que generaciones y generaciones de lectores sigan adorando este libro: los cumpleaños son una celebración única y exclusiva de cada persona. «¡Hoy tú eres solo tú! ¡Eso es verdad verdadera! ¡No hay quien sea más tú que tú en toda la tierra entera!»

Las ediciones rimadas en español de los clásicos de Dr. Seuss, publicadas por Random House, brindan la maravillosa oportunidad de disfrutar de sus historias a más de treinta y ocho millones de personas hispanohablantes en Estados Unidos. Los lectores podrán divertirse con las ediciones en español de The Cat in the Hat (El Gato Ensombrerado); Green Eggs and Ham (Huevos verdes con jamón); One Fish, Two Fish, Red Fish, Blue Fish (Un pez, dos peces, pez rojo, pez azul); The Lorax (El Lórax); Oh, the Places You'll Go! (¡Oh, cuán lejos llegarás!); How the Grinch Stole Christmas! (¡Cómo el Grinch robó la Navidad!); The Cat in the Hat Comes Back (El Gato Ensombrerado ha regresado); I Can Read With My Eyes Shut! (¡Yo puedo leer con los ojos cerrados!); Horton Hears a Who! (¡Horton escucha a Quién!); The 500 Hats of Bartholomew Cubbins (Los 500 sombreros de Bartolomé Cubbins); There's A Wocket in My Pocket! (¡Hay un Molillo en mi Bolsillo!); Mr. Brown Can Moo! Can You? (¡El Sr. Brown hace Muuu! ¿Podrías hacerlo tú?); Ten Apples Up On Top! (¡Diez manzanas en la cabeza!); What Pet Should I Get? (¿Cómo podré decidir qué mascota elegir?); Yertle the Turtle and Other Stories (Yoruga la Tortuga y otros cuentos); ¡Oh, piensa en todo lo que puedes pensar! (Oh, the Thinks You Can Think!); ¡Cuántos, cuántos pies! (The Foot Book); ¡Feliz cumpleaños! (Happy Birthday to You!); y Ven a mi casa (Come Over to My House).


A rhymed Spanish edition of THE ultimate Dr. Seuss's birthday gift for ages 0 to 101!

In this classic picture book by Dr. Seuss, readers learn how birthdays are celebrated in the land of Katroo—and to be sure, they're Seussian spectacles! (Complete with a Great Birthday Bird, feasts beyond your wildest dreams, gifts you'll remember the rest of your life, and a party so extravagent it takes twenty days to clean up the mess!) But it's the reason for these festivities that makes the book so beloved by generations of readers: That birthdays are a celebration of who we are as individuals. "Today you are you! That is truer than true! There is no one alive who is you-er than you!"