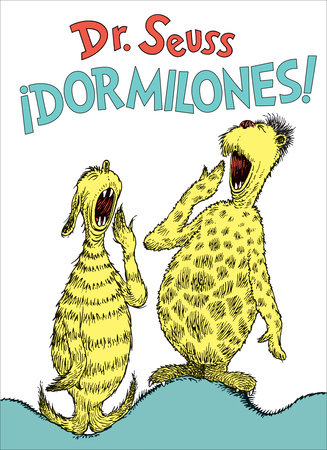 ¡Dormilones! (Dr. Seuss's Sleep Book Spanish Edition)
¡Edición en español y rimada del libro de Dr. Seuss preferido a la hora de dormir!

Este clásico ilustrado acerca de quedarse dormido es la lectura ideal para antes de irse a la cama o dormir una siesta. Cuando un pequeño insecto comienza a bostezar, desencadena una reacción que provoca que ¡noventa y nueve tropecientos nueve trillones y tres criaturas Seussianas se queden profundamente dormidas! Sin olvidarse del despertador, los sonámbulos y los ronquidos, esta encantadora oda a la hora de dormir arrullará a los somnolientos oyentes (y lectores) que se adentrarán en un dulce sueño. Regalo ideal para cualquier ocasión, ¡Dormilones! debe formar parte de la biblioteca personal de cada niño.
 
Las ediciones rimadas en español de los clásicos de Dr. Seuss, publicadas por Random House, brindan la maravillosa oportunidad de disfrutar de sus historias a más de treinta y ocho millones de personas hispanohablantes en Estados Unidos. Los lectores podrán divertirse con las ediciones en español de The Cat in the Hat (El Gato Ensombrerado); Green Eggs and Ham (Huevos verdes con jamón); One Fish, Two Fish, Red Fish, Blue Fish (Un pez, dos peces, pez rojo, pez azul); The Lorax (El Lórax); Oh, the Places You'll Go! (¡Oh, cuán lejos llegarás!); How the Grinch Stole Christmas! (¡Cómo el Grinch robó la Navidad!); The Cat in the Hat Comes Back (El Gato Ensombrerado ha regresado); I Can Read with My Eyes Shut! (¡Yo puedo leer con los ojos cerrados!); Horton Hears a Who! (¡Horton escucha a Quién!); The 500 Hats of Bartholomew Cubbins (Los 500 sombreros de Bartolomé Cubbins); There's a Wocket in My Pocket! (¡Hay un Molillo en mi Bolsillo!); Mr. Brown Can Moo! Can You? (¡El Sr. Brown hace Muuu! ¿Podrías hacerlo tú?); Ten Apples Up on Top! (¡Diez manzanas en la cabeza!); What Pet Should I Get? (¿Cómo podré decidir qué mascota elegir?); Yertle the Turtle and Other Stories (Yoruga la Tortuga y otros cuentos); Oh, the Thinks You Can Think! (¡Oh, piensa en todo lo que puedes pensar!); The Foot Book! (¡Cuántos, cuántos pies!); Happy Birthday to You! (¡Feliz cumpleaños!); Come Over to My House (Ven a mi casa); Dr. Seuss's Sleep Book (¡Dormilones!); Would You Rather Be a Bullfrog? (¿Preferirías ser una rana?); Horton Hatches the Egg (Horton cuida un nido); y Dr. Seuss's 1  2  3 (Cuenta con Dr. Seuss 1  2  3).

A rhymed, Spanish edition of Dr. Seuss's beloved bedtime story!
 
This classic picture book about falling asleep is perfect for reading before bed and nap time. When a very small bug begins to yawn, he sets off a chain reaction which spreads until ninety-nine zillion nine trillion and three wildly Seussian creatures are fast asleep! With nods to alarm clocks, sleepwalking, and snoring, this charming ode to bedtime will lull listeners (and readers) toward happy dreams. An ideal gift for any occasion, Dr. Seuss's Sleep Book belongs in every child's home library!