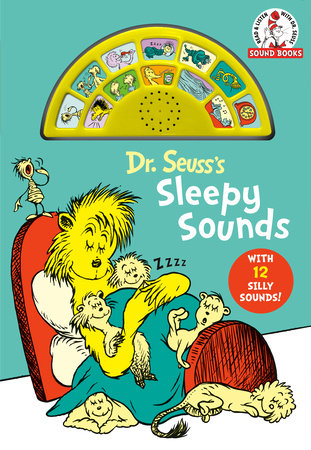 Dr. Seuss's Sleepy Sounds
Dr. Seuss's classic bedtime story is now an interactive board book featuring 12 different sounds! Children will love to spot the icons, press the buttons, and listen to the sounds of Dr. Seuss's iconic sleepy characters.

A yawn is quite catching, you see. Like a cough.
It just takes one yawn to start other yawns off.

Introduce little ones to the world of Dr. Seuss with this interactive adaptation of Dr. Seuss's Sleep Book that's perfect for babies and toddlers. From yawns and the sound of brushing teeth to silly snores and a lullaby melody, the twelve sounds featured in the story are almost guaranteed to make kids (and adults!) sleepy, making this an ideal read before naps or bedtime.

The colorful sound module comes with a handy on/off switch, and batteries can be easily replaced.

With simple, rhyming text and bold, colorful illustrations, this sound book is the perfect gift for new parents, sleepover-hosting grandparents, and a new generation of Dr. Seuss fans.