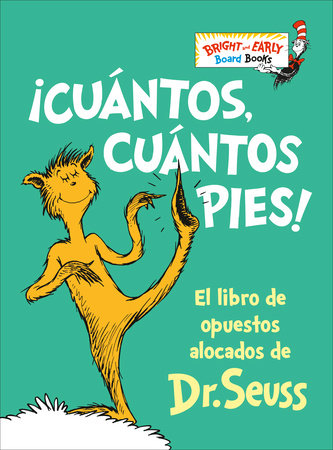 ¡Cuántos, cuántos Pies! (The Foot Book)
Esta edición de libro de cartón súper sencilla y resistente de Cuántos, cuántos pies, el clásico libro de Dr. Seuss sobre los opuestos, ¡ahora está disponible en español!

This super-simple, super-sturdy board book edition of The Foot Book--Dr. Seuss's classic book about opposites--is now available in Spanish!

Desde pies remolones a pies apurados, pies maromeros a pies lastimados, Cuántos, cuántos pies no solo presenta una variedad de pies divertidos, sino que también enseña a los niños sobre los opuestos.

Traducido al español en rima, tanto los hablantes de español como quienes estén aprendiendo el idioma como segunda lengua disfrutarán de esta versión abreviada de la serie original Bright and Early Book de Dr. Seuss. Rimas simples e ilustraciones coloridas hacen de este libro la elección perfecta para bebés y niños pequeños.

From slow feet to quick feet to trick feet to sick feet, The Foot Book not only features a fleet of funny feet, but teaches children about opposites.

Translated into rhyming Spanish, Spanish speakers and second language learners alike will delight in this abridged version of the original Bright and Early Book by Dr. Seuss. Simple rhymes and colorful illustrations make this book perfect for babies and toddlers!