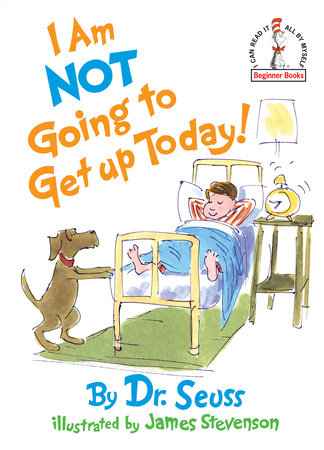 I Am Not Going To Get Up Today!
Dr. Seuss's hilarious Beginner Book about a boy who refuses to get out of bed!
 
NOTHING is getting the young hero of this easy-reader out of bed—not an alarm clock, roosters, barking dogs, the police, the news media, or the United States Marines! With illustrations by beloved New Yorker cartoonist James Stevenson—and a plot that children and adults can relate to—this is a funny fantasy that the whole family can enjoy together!
 
Originally created by Dr. Seuss, Beginner Books encourage children to read all by themselves, with simple words and illustrations that give clues to their meaning.

"A rhyming story that is full of laughs. 'The alarm can ring. The birds can peep....Today's the day I'm going to sleep,' says a lazy boy one morning, and despite a pail of icy water, television coverage, and the arrival of the Marines, he vows to stay in bed--and he does! The repetition of concepts and words will keep children turning the pages, as will the energetic drawings. A sure draw for early readers."--Booklist.