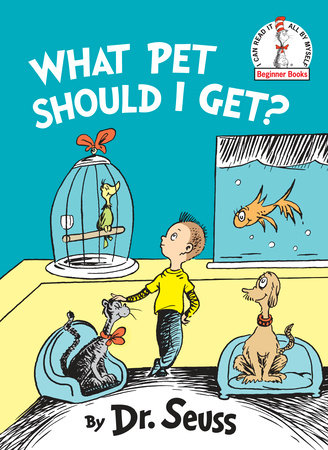 What Pet Should I Get?
The #1 New York Times bestseller discovered just a few years ago is now available in the Beginner Book format!

What happens when a brother an sister visit a pet store to pick a pet? Naturally, they can't pick just one! Featuring the kids from One Fish Two Fish Red Fish Blue Fish and told in Dr. Seuss's signature rhyme, this beginning reader takes a classic childhood moment—choosing a pet—and uses it to illuminate a life lesson: that it's hard to make up your mind, but sometimes you just have to do it! A great gift for young Dr. Seuss fans and animal lovers, it's perfect for reading aloud or children learning to read by themselves.

Discovered 22 years after Dr. Seuss's death, the unpublished manuscript and sketches for What Pet Should I Get? were previously published as a 48-page jacketed hardcover with 8 pages of commentary. This unjacketed Beginner Book edition features the story only.