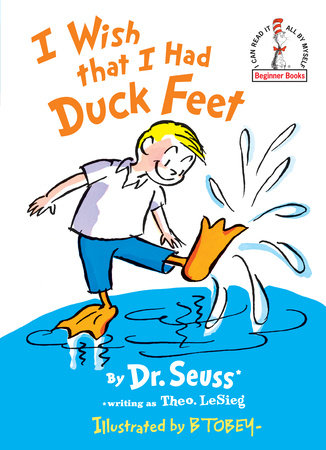 I Wish That I Had Duck Feet
¡Una edición en rima y en español de un clásico de la colección Beginner Books de Dr. Seuss acerca de la autoaceptación!
 
En este gracioso y ameno libro de Dr. Seuss, un niño evalúa los pros y los contras de poseer varias extremedidades de animales, como las astas de un venado, el pitorro de una ballena y la trompa de un elefante, solo para concluir que es mejor ser él mismo. Con encantadoras ilustraciones del caricaturista neoyorquino B. Tobey, esta es una historia alocada y reveladora  que los primeros lectores querrán escuchar una y otra vez. 
 
Creados originalmente por el propio Dr. Seuss, Beginner Books son libros divertidos, graciosos y fáciles de leer. Estos libros de tapa dura sin sobrecubierta animan a los niños a leer individualmente, usando palabras e ilustraciones sencillas. Más pequeños que los clásicos libros ilustrados de Dr. Seuss, de gran formato, como El Lórax y ¡Oh, cuán lejos llegarás!, son perfectos para que los lectores de 3 a 7 años practiquen, ¡y para sus  afortunados padres también!
 
Las ediciones en rima y en español de los libros clásicos de Dr. Seuss de Random House hacen que la alegre experiencia de leer los libros del Dr. Seuss esté disponible para los más de 41 millones de personas en los Estados Unidos que hablan español. Los lectores pueden disfrutar de más de 30 títulos clásicos de Dr. Seuss, que incluyen: The Cat in the Hat (El Gato Ensombrerado); Green Eggs and Ham (Huevos verdes con jamón); One Fish Two Fish Red Fish Blue Fish (Un pez dos peces pez rojo pez azul); The Lorax (El Lórax); Oh, the Places You'll Go! (¡Oh, cuán lejos llegarás!); How the Grinch Stole Christmas! (¡Cómo el Grinch robó la Navidad!); y Horton Hears a Who! (¡Horton escucha a Quién!). Ideales para su uso en el hogar y en el salón de clases, han sido cuidadosamente traducidos en rima por hispano-hablantes latinoamericanos.

A rhymed Spanish edition of Dr. Seuss's classic Beginner Book about self-acceptance!
 
In this comical easy-reader by Dr. Seuss, a young boy weighs the pros and cons of possessing various animal appendages—such as a deer's antlers, a whale's spout, and an elephant's trunk-only to decide that he's better off just being himself. With charming illustrations by New Yorker cartoonist B. Tobey, this is a zany, insightful story that beginning readers will wish to hear again and again!