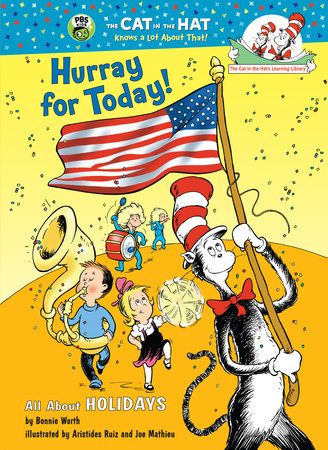 Hurray for Today!
With a little help from the Birthday Bird of Katroo, the Cat and Co. explain (in rhymed verse!) the origin of common holiday rituals such as lighting candles, dying eggs, and sending cards. Holidays include Christmas, Hanukkah, Kwanzaa, New Year's, Groundhog's Day, Valentine's Day, President's Day, St. Patrick's Day—and that's only through March!
"The Cat in the Hat's Learning Library shows young readers that books can be entertaining and educational at the same time. This is a wonderful series!"—Barbara Kiefer, Ph.D.
Bonnie Worth is the author of the Cat in the Hat Learning Library titles If I Ran the Rain Forest, Great Day for Pup!, Oh Say Can You Seed? (winner of the 2003 Ohio Farm Bureau Children's Literature Award), Wish for a Fish, and Oh Say Can You Say Di-No-Saur? She lives in Middletown, NY.
Among his many other credits, Aristides Ruiz is the illustrator of all the Cat in the Hat Learning Library Books. He lives in Newark, NJ.