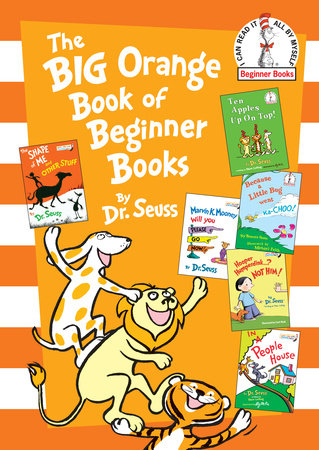 The Big Orange Book of Beginner Books
Find your next favorite Beginner Book in this supersized story collection from Dr. Seuss!

The only thing better than a Dr. Seuss book is six of them in one! The easy words, engaging rhymes, and bright art in this collection can turn any kid into a reader. All in on one colorful, sturdy hardcover package, the stories featured include The Shape of Me and Other Stuff; Marvin K. Mooney Will You Please Go Now!; Ten Apples Up On Top (illustrated by Roy McKie), In a People House (illustrated by Roy McKie); Hooper Humperdink...? Not Him! (illustrated by Scott Nash); and Because a Little Bug Went Ka-Choo! (illustrated by Michael Frith). Ideal for starting a child's library, this collection will whet young readers appetites for additional books in the Beginner Book series--and help nourish a lifelong love of reading!

Originally created by Dr. Seuss himself, Beginner Books are fun, funny, and easy to read. These unjacketed hardcover early readers encourage children to read all on their own, using simple words and illustrations. Smaller than the classic large format Seuss picture books like The Lorax and Oh, The Places You'll Go!, these portable packages are perfect for practicing readers ages 3-7, and lucky parents too!